Joel and I have had a disagreement which led into negotiations. What culminated was a deal, the gist of which is that I'm free to dress the baby in nautical attire until such point as the child is weaned. Fair enough, but I do intend to make the most of it.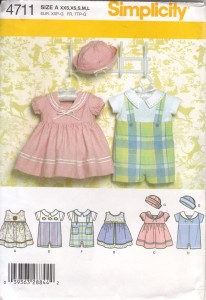 I bought this pattern about six years ago, when my sister was expecting her little boy, Max. It never got used, because as it turns out, my brother-in-law shares the horror held common among grown men of sailor outfits for small boys.
Now, if you ask me or just about any other auntie or grandma on the planet we'll tell you that there is nothing cuter than a baby in a sailor outfit. The middy suit is a classic among children's fashions and is always completely adorable. End of discussion.
Actually, it's not, though it's hard to deny the cuteness of little kids in sailor suits. There exists, a Grade-A adorable photo of my esteemed husband as a little fella, probably a year-and-a-half old, standing in the kitchen of the houseboat his parents used to rent, preparing to toss a tennis ball. He was one of those rosy-cheeked, tow-headed little kids who would garner a great deal of public approbation from the maternally inclined. And in this photo, he was wearing a little middy-style romper suit which just blows the cuteness off the Richter scale. He will thank me for not sharing this photograph, so you'll have to take it from me that it's freakin' darling.
I have another pattern which I picked up for a quarter at a junk shop some while past, thinking that I'd use it to make a gift for someone, some day. It's a much less formal pattern, toddler-oriented, and offers several styling options from the overtly nautical to a much plainer option left free to interpretative embellishment: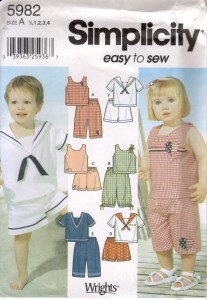 I see plenty of utilitarian potential in this envelope, and even if the child is weaned by the time he or she is in this size, I shall still be able to extract some creative delight from this set of options – I'll just have to restrain myself from cutting Option D or F. I think if I make this one up, but without the middy collar, I won't, however, follow the patriotic theme. It's not exactly my aesthetic.
I had variations on the theme of nautical attire throughout my childhood as both my Grandma Helga and my Mom considered sailor-suits terribly cute and absolutely essential for the small child's wardrobe. In fact, I can remember the first time in my life when I felt chic, and it was when I was eight years old and I'd gotten a smart little red-and-white sailor suit for my new Best Dress. I wore it for school pictures, for the Christmas Play, and for any other occasion on which I was called upon to dress nicely. It consisted of a boxy, waist-length middy jacket (it was 1985) which had a double-breasted front closure (white buttons on red fabric), white collar with red soutache trim, and white soutache trim at the cuffs. The skirt was white and knife-pleated, with two rows of red soutache trim above the hem. Mom would tie a wide double-sided satin bow around my hair, and I felt so put-together and stylish in my little red sailor-suit. It was seriously one of my favorite items of clothing for as long as it fit. When I outgrew it, it was replaced with another delightfully 1980s outfit consisting of an oversized, chunky-knit red sweater worn over a tiered, ruffled rah-rah skirt in red-and-green plaid.
I am, at the moment, restraining my scissor hand until I know if the baby is to be a boy or a girl. Not because I'm planning an elaborate princess nursery or a macho-macho monster truck theme, but simply because I want to know if the first sailor outfit should feature shorts or a skirt.
Oh, and just for fun, here is another blog entry about the history of sailor suits, as well as a Pinterest board. Enjoy!