>This is Joel's line whenever he does something deliberately to annoy me. That masculine impulse to pester and tease apparently never goes away. From age 10, when they wipe a handful of rubber cement across your arm and pretend it's snot, to when you're 36 and they sneak up on you while you're cooking and stick a wet finger in your ear. I guess I have to find it charming-ish, 'cause if I didn't, I'd be cheesed off all the time.
As you'd expect, I don't go in for the bigtime hearts-n-flowers hullabaloo. Firstly, I find cut flowers terribly depressing. Secondly, my rather dry sensibilities just don't absorb mushiness very well. We "celebrated" Valentine's Day by grouching gently at one another whilst moving all of my sewing-room shit out of my sewing room and down to the basement so we can convert the sewing room to a spare bedroom for Joel's mother, who'll be staying with us in the interim between selling her condo and finishing the renovation on the Little House. Later, once she's comfortably ensconced in the Little House, the spare bedroom will become Joseph's room. It's already painted in a lively green-and-orange theme, which should make up quite nicely as a kid's bedroom. Possibly less desirable to a 79-year-old woman's tastes, but I'm sure she'll cope!
I did a little bit of old-fashioned valentining this year, though, and made up a few clumsily-fashioned, glue-laden greeting cards for a few special people in my life. I love making stuff, and it's a great deal of fun to just kind of let my brainmeats boing around while I try to collage up something amusing. So, this was the result of my foray into "graphic design" for the holiday: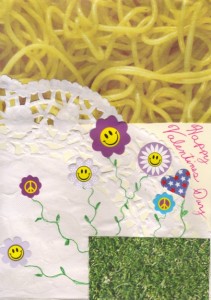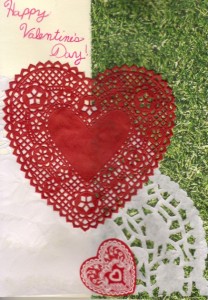 I am going to pretend that spaghetti and astroturf are traditional symbols of affection and all that.