A reader caught a typo for me in my Kia Magentis post from the other day – I'd mis-named the Chrysler 300, a leaden and funereal 4-door sedan as a Chrysler 500 (because I have stubby-little-kid-hands and have to take my fingers off home-row to hit the number keys) and he thought I was making a wisecrack about the New Fiat 500. Which I wasn't, and I'm not really about to now, either.
I'd need to have strong, negative feelings about the car to bust out with snark about it, and those, I don't have. About all I can say is that I find it a bit twee, but, like the unsentimental asshole that I am, I find many things twee; however, not objectionable enough in their preciousness to churn up much sarcasm much less a quality, bilious rant.
The New 500 is basically a Panda in fancy dress. The Fiat Panda is a low-frills city car that we don't get the privilege to consider here in the US. It is very much the sort of car I'd purchase, if it were an option, and I was in the market for a car.
As James May notes in his "review" of the 500, you get more car for less money if you buy the Panda. Which is the car he owns, not that this might bias his review. Heh. However, he does note that the costume-drama 500 is a charming and fun-to-drive option, and that if you're not too hung up on being sensible and are, in fact, interested in looking good, the 500 would actually be a good choice.
No, how I feel about the Fiat 500 is how I feel about the whole raft of retro-styled contemporary cars on the market. The New Mini, the New Dodge Challenger, the Ford Mustang from the 5th Gen on, the Chevy Camaro from the 5th Gen. I think they're all pretty good lookers, but as machines, not terribly exciting. Many of them are just re-skinned versions of whatever other car the lineup offers that is of the general appropriate size. What they are, is cars for people who won't drive old cars, but like the looks of yesteryear. Cars for people who want shit like reliability, climate control, and cupholders. They have a place in the world and are ideal for people who like nostalgia but dislike inconvenience. But for myself, they hold no great appeal. I like for a car to be a bit of a challenge, to require some know-how, and to possibly smell a bit strange when it rains.
The only retro-car that I hold a deep and abiding fucking loathing for is the Volkswagen New Beetle. This is in no small part because at one point in my blighted past, I was co-owner of one of these shitful little abominations, and to this day I cannot speak of that car without swearing and spitting out the bitter aftertaste.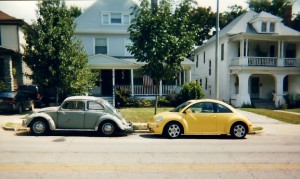 The Yellow Car is no longer a part of my life. The green one, however, it's coming back home this Fall.
The New Beetle had pathetic rear-seat headroom; at 5'5″, I clonked my head on the back seat window frame EVERY time I had to sit back there. The visibility was piss-poor. The car felt cumbersome and wide. The A-Pillar was positioned just perfectly to make viewing oncoming traffic from the left diffficult; the B-Pillar blocked side view if you went to look over your shoulder; and if you tried to rely on the rearview mirror, the C-Pillar created a critical gaping blind spot.
The ground clearance was…minimal. With the New Beetle, one of the first things owners needed to do was put a skidplate on the oilpan. I couldn't actually take the car up the alley to access the garage behind my old house. Given that Kansas City is notorious for potholes, abandoned roadworks, and large chunks of debris on the freeway, every trip out before the skidplate was fitted caused me nailbiting anxiety.
Oh, and this particular car came from the dealership with a misaligned rear end which destroyed half a set of tires before I could convince them to look into it. During the course of the first two years of owning that car, Northtowne Volkswagen's maintenance department continually attempted to fleece me with unnecessary repairs while overlooking problems that were real and inconvenient. Had the car itself not been such a flaming load of shit, the way the dealership treated me would have put me off modern Volkswagens.
Now to be honest, I must admit that I've never fully forgiven VW for putting the engine in the wrong end of their cars in the 1970s, but I have owned or driven a couple of front-engine VWs that didn't completely suck. The Golf (upon which the car I've been cursing was based) is a serviceable and practical car. The Jetta range is an excellent option for family cars. The '81 Scirocco I used to have was a five alarm circus when its electrics or fuel injection weren't malfunctioning. The fuel economy of any VW diesel is fantastic. But I reserve a particular and venomous dislike for the entire New Beetle range.

The Scirocco is a car about which I harbor the most mixed feelings. This car was mad as a badger. It was crazy lightweight and was propelled by the 1.8L out of a wrecked Audi Fox. It had a clutch that grabbed like a bulldog, and for as hightailed as the suspension looked, that little beast cornered like it was magnetically attached to the road. First through third were close and tight – with a little bit of commitment and verve, you could chirp the tires with each gear change. Acceleration through fourth and fifth were ready and adequate. This car was at its most fun coming on to or leaving the Interstate. There are a few tight, corkscrew on or off ramps that I dearly loved to accelerate through. When I was a teenager, my Mom taught me how to corner a car; how to let off as you enter the curve, then goose the accelerator near the apex to sucker it down and slingshot out on to the highway at speed.
When the Scirocco was working, it was a runnin' son-of-a-gun. But, it had the faults of its breed. Shoddy electrics, primitive fuel injection, and chintzy build quality meant that it would stop running unexpectedly, that bits of the interior always rattled, drooped, or fell off, and that any time you sought to evict one gremlin, you'd find three more waiting in line with reservations. When it got beyond my abilities, I took it to a local mechanic I trust. While they did their best to do right by my horrible car, the truth of the matter was, it was becoming a burdensome money-pit.
When I sold that car, I felt a great sense of relief, as it had left me high and dry about as often as it had delivered me to my destination on time and un-frazzled. However, in retrospect, I wish I'd vetted its new owner a bit more thoroughly:
I sold it to a teenaged boy who promptly wrecked it in every possible way a teenaged boy could wreck. Side swiped a dumpster, backed into a retaining wall, and finally stuffed it into a tree. If I'd known that kid would be such an abysmal driver, I'd have held out and sold it to someone who wanted a project car, who'd have done right by that car and enjoyed it, rather than willfully destroyed it.