…to keep cocking it up this relentlessly. But I managed to persevere through my incompetence and produce what turned out to be an actually pretty dress:
This finally turned out very well. The fabric and the pattern combined almost perfectly.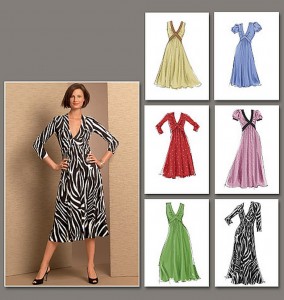 This pattern was intended specifically for moderate stretch knits. This fabric is not a knit at all, nor is it even a little bit stretchy. It is a basic, plain-weave Rayon challis which does have a nice drape and flow to it, so I figured it would work well for the gathered sleeves, bodice, and skirt. I sized it up two sizes to accommodate for the lack of stretch and for my expanded bust size. And do you know what? It works. Perfectly. It is a nice fit with sufficient ease for comfort, movement and a graceful bodyline. Given that I eliminated the back zip for a number of reasons which mostly boil down to extreme laziness, it's actually not difficult to put on.
Pretty much every review of this pattern has commented about how extremely low cut it is, and I concur, this dress is damn near indecent. No problem, though. I have several pretty camisoles that I can wear to fill in the neckline a bit, and with it being black-and-white, I can put just about any color beneath it. I did trim it with red topstitching, but it is very subtle, and also fairly versatile. I have a gorgeous saffron-colored lace cami that is going to look really great with this dress, I think.

The pattern has a shaped waistband that comes to a point at the lower back and provides waistline shaping in what would otherwise be an Empire line dress. I really like this feature and plan on making other versions of this dress, eventually in Jersey knit, as originally designed. There are options for making the neck and waistbands in contrast fabric, which is probably how I'll style it for the next time I use this pattern.

From the side, you can see that there should be plenty of room for expansion. And the gratifying fact is that I seem to be carrying low and pretty much all in front, so I can still wear clothing with some waistline definition and carry on with my personal preference for fairly structured garments.
I tried it on with a white, lace-trimmed camisole, a pair of mustard rope-sole espadrilles, and my latest thrift-shop score, a little raffia handbag with black patent straps and a lining of black-and-white polkadot cotton. There's quite a bit of potential for chic with this cheap-n-cheerful summer dress.