Yesterday, I was grousing on Facebook about having an episode of numptiness wherein I assembled the sections of a shaped waistband upside-down and stitched them to the bodice that way, then wondered why the waistband looked like the top of a tent.
So, this morning I sat down, fixed the cursed waistband, re-installed it, did the decorative topstitching, and then proceeded to screw it up from another direction:
Would that I could say this was an isolated incident, but I have photographic evidence working against me:
And because I had arrogantly assumed that my upside-downsy problems were behind me, not only did I stitch the sleeve in the wrong way up, I also zig-zagged the raw edges (in lieu of an overlocker, which I continue to refuse to buy) so now I have to pick out a row of normal stitches and a row of zig-zags. Which is still probably less of an ass-pain than undoing a serged seam.
Anyway, what I'm trying to make is a modification of the dress seen below.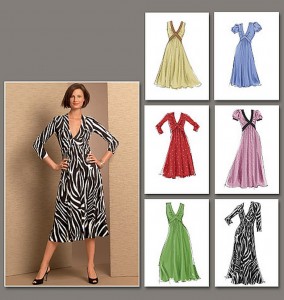 I've added a bit of length to the skirt front, as it will be used for maternity, and sized it up a size-and-a-half because I am not using a knit fabric, nor am I installing a back zip, because I don't have one of the right length and also I cannot be bothered.
The fabric, as you can see, is a black-and-white abstract floral print rayon challis, and I think it will be very pretty when I finally get my head around what direction is up. It reminds me a bit of some of the more restrained Marimekko prints. I've opted to highlight the shaped neck and waistbands with red topstitching. If I ever manage to overcome my current wave of incompetence, it could end up being a nice spring/summer dress.
If.