I'm pretty much ready for the Kansas City Tweed Ride.
I've got an awesome bike:

And now I have an awesome outfit:

The outfit has many parts, none of which were originally planned to go together, but all of which actually do. There are three things I didn't make.
1. Blouse (GAP)
2. Socks (Target)
3. Shoes (Dr. Martens)
The jacket, to which I am particularly partial, is a Butterick pattern: #5232, to be exact.


It made up deceptively easily; it looks like it should be really complicated, but it would be a friendly pick for a relatively novice seamstress. I used unbleached lightweight canvas with brown mercerized cotton thread for the topstitch decoration. I wear this jacket all the time to work with more modern gear.
The bloomers were a Laughing Moon pattern, #110, which is a complete suit of 1890s sportswear – one suit for hiking with a short skirt and sailor-ish jacket and the other a cycling suit with a side-closing double-breasted jacket and the bloomers you see below:


I modified the pattern for an elasticated back waist to do away with a side closure, and I added in-seam pockets at each hip.
I figured that if my butt doesn't look big in these, then I have done something terribly, dreadfully wrong.

Topping it all off is a squashy hat which is actually the only piece of Tweed in my whole ensemble!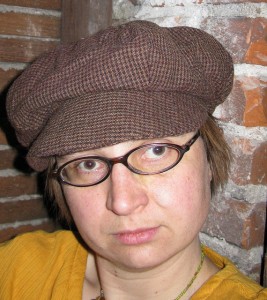 I made this hat using an older Simplicity "Junior Trend" pattern and a pair of pants that I hated.
I'd bought this pair of houndstooth check tweed pants at a thrift shop because they were my size, they were wool, and I loved the color(s). I discovered, however, why they'd been banished to the thrift store. They had a ridiculously high rise and a tendency to migrate northward as the day wore on. Every time I wore them, I'd start off in the morning thinking, "Oh, these are nice; I wonder why I never wear them…they look so good with this sweater," and by 3:00 p.m., I'd be picking them out of my armpits and swearing vehemently. So eventually I cut the bullshit and turned them into the hat you see above.
So, my outfit for the Tweed Ride is ready to roll. Now, I need to see about this "Grand Marshall" sash that Calvert & the Groody Bros. are talkin' 'bout.