I own a 1953 Schwinn Debutante, a bicycle which is delightfully pretty and gloriously impractical:
This is not a bicycle you ride if you are in a hurry.

I've wheeled it out for two special occasions so far this year. It was a belle of the ball on St. Patrick's Day.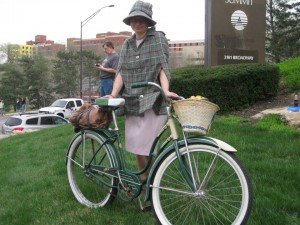 To go with my lovely old green cruiser, I made a green plaid cape and hat, which I'd been planning to make anyway, and the St. Patrick's Day parade was just the perfect excuse.
This was the fabric and pattern selection. The fabric was some vintage Pendleton wool that my mom's friend Vi gave me, and the patterns are vintage. The cape came in a shoebox of patterns I bought at a yard sale when I was a college student, and the hat pattern was a present from one of my aunts.
Realistically, the wool was a little too heavy and stiff for the hat pattern, and so it didn't slouch like it was supposed to. I felt a bit like a plaidy Paddington Bear. But the cape exceeded my expectations.
I changed the neckline a bit. I tried it on with pins holding it closed at the originally-marked buttonholes, and it felt too scratchy and claustrophobic, so I re-measured and re-marked for the button holes to start about 6″ lower, and it ended up making a very nice notched collar instead.

The buttons are some old, silver-y concho-style buttons salvaged off a coat I had when I was a little kid.

The buttons on the epaulettes are some random little pewter buttons that Joel unearthed out of the bottom of his thread box and turned over to my creative efforts.
The lilac dress I wore underneath the cape was one I got at a yard sale in the Northeast several years ago, along with some other great outfits from the same era.


Probably mid-to-late 1960s.
The Kansas City Tweed Ride just happened yesterday, and I rolled the old Debutante out for that one as well. For that festive occasion, I wore my infamous green bouclé suit, the little pancake hat I made ages and ages ago, and those old Easy Spirit D'Orsay pumps that were such hell to break in.

Now that they're finally broken in, I really, really like them, and I can wear them all day (and even take a short bike ride while wearing them!). But man alive. They were wicked uncomfortable when they were new. I nearly gave them away a couple of times.

Quite possibly the silliest hat I have ever made.
If I can borrow a picture or two from another participant, I'll post an illustration of how the outfit and bike and all that looked. In the meantime, I have loads of pictures of other people's bikes and costumes!