What you see before you is my "new" stove, a 1950s-era Magic Chef gas range and oven which pretty much outclasses everything else currently residing in my kitchen.
Never mind you that the new stove is currently residing on the back porch. It's in good company. It's got a disconnected Swedish woodstove and a mysteriously non-op gas-powered bar-b-que gril to keep it from getting too lonesome.


We're Klassy.

There's also a bathtub in our back yard. Not on the porch, mind, and not housing a B.V.M, but it is here nonetheless, awaiting its eventual installation in our bathroom. It's an old clawfoot, circa 1910 (like the house, actually) and has since been turned turtle and tarped over, so as not to accumulate water.
So yeah, the whole process of renovating a house is a freakin' pain in the ass. DIY has that whole "doing it yourself" aspect which, when taken into account the time you have available to do it, and the money required, and all that business, means that doing it takes for AGES and you end up forgetting what your house looked like when you didn't have a full backstage pass to the stud show.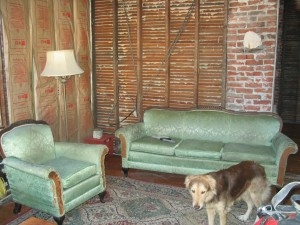 (sheepish shepherds get in free) (cats who destroy my beautiful seafoam green lounge suite, however, are barred from the premises – assholes)
Anyway, enough with the woes of dallying DIY.  I really came here to show off pictures of a pretty stove, so click away and enjoy all of the chrome-plated, Bakelite-knobèd glory.