Last night, to end a very silly not-argument about the word "recidivist" and its proper spelling, I took to Joel's gigantic dictionary, a Webster's New Twentieth Century Unabridged Dictionary from 1972. After I'd won the argument (heh) I spent a bit of time just thumbing through the tome, because I like dictionaries and just randomly discovering words. What I discovered yesterday, however, were two sections of color plates one of which contained the following images: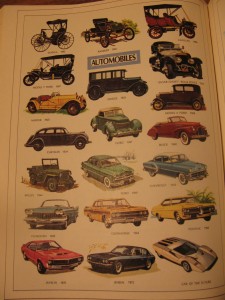 This is the full page of Automobiles. The bottom row caught my eye: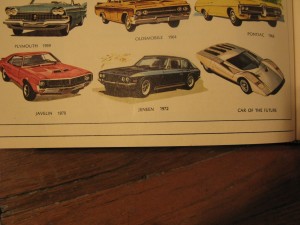 Initially, I'd been charmed that Webster's saw fit to feature an AMC Javelin and a Jensen Interceptor, two cars of roughly equivalent merit from their respective countries.


I'd kind of glossed over the "Car of the Future" at the time, dismissing it as a flight of fancy from a bored illustrator.


Unbidden, it kept resurfacing in my brain. It looked like it had to have been some kind of Italian supercar concept from the 1970s. A little bit of Google action very swiftly turned up some proper information. This was a Pininfarina-designed Ferrari concept car from 1969, the 512 S Berlinetta Speciale concept. For a multi-view photogallery, click here. And for a view of that fashion model's leopard-spotted bottom, there are a few more photos presumably from Pininfarina's archives on Tumblr. This concept car was sufficiently exciting to make it to Hot Wheels scale, apparently, but the actual car was never put into production. I kind of think we might have had that particular Hot Wheels car in a little bin of toys at my elementary school when I was a kid. It really, really looks familiar.
I don't know what it says about me as a person that I would, could, and did turn up images and information for an obscure supercar concept design after viewing vaguely-labeled thumbnail illustration in a 42-year-old dictionary, but there it is.