A squillion years ago, more or less, I graduated from highschool and my grandparents gave me a really, really, really, really nice set of pens (one ballpoint, one fountain).

I, being the hamfisted mutant that I am, managed to break the ballpoint pen within a year. Moreover, being an ignorant cluck, I tried to "fix" it via the "miracle" of Super Glue.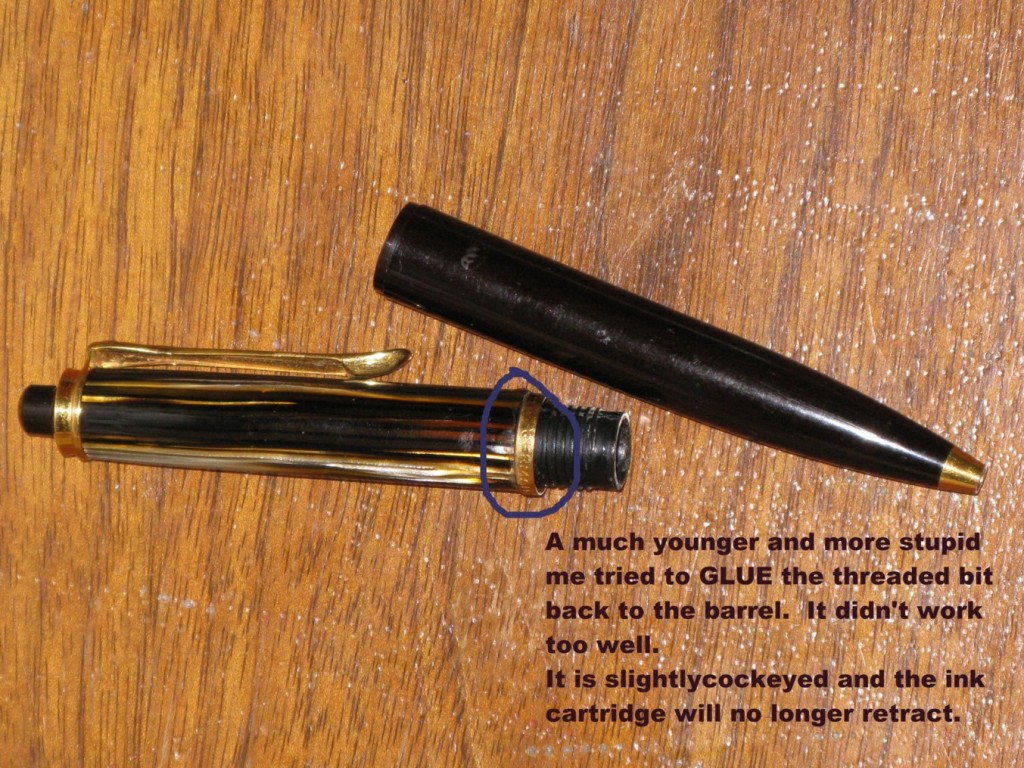 That didn't work so well.
A good 12 years or more after breaking said pen, it occurred to me to look up that particular brand of pen (Pelikan) online and see if I could maybe replace the broken one because I really liked that pen. I soon realized how very posh those pens were and that replacing it was not likely to happen. I thought, just for kicks, I'd see if, since these pens were so very grand, they might have a repair service.
As it turns out, they do, and as it turns out, they were willing to take my pen, which had been broken for over a decade and repair it. Even more amazingly, they did so and didn't charge me anything besides shipping! This is the sort of thing that should pull in a few more exclamation points, but I try to hold myself to Terry Pratchett's aphorism about exclamation points these days.


Better than new!
So now, I have a really fancy pen once again, and I'm just tickled to bits and pieces. My grandparents who gave me these pens died two years ago, and I miss them like crazy. From time to time, I'll think of something I'd like to tell Grandma, or think of one of Grandpa's pranks or inventions and just want to see them both and hang out some more.
I guess they were pretty pleased with my educational attainments and aspirations (although I regularly feel bad that I haven't been able to do more with all of that schooling) and whenever I pull out my fancypants pen, I can think of that.
Some folks are total fountain pen nerds, so I am including this close-up of the nib in my fountain pen. I think I might eventually have it changed out for a finer tip, but it does work quite nicely.