I pass by this church every morning on my way to work, and every morning, I get a wee case of the grumpies from this: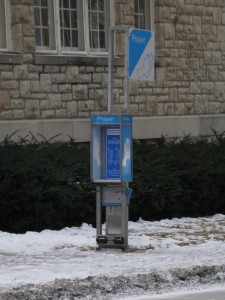 The first half zillion times I passed by it, I just thought, "oh, a phone box. You don't see many of those around anymore. Darn convenient when you do need one, though."
Then, one morning I looked again and realised that it's not a phone box. It's a prayer box.
Apparently the big J-man is on speed dial there. Just pop right in and give your Savior a little ringy-dingy. Seraphim are standing by.
I honestly can't explain exactly why this thing annoys me so deeply, but every time I pass by, I grumble a bit. Mostly I don't find it half as clever as somebody (or a bunch of somebodies) in the church obviously did. Also, I think it's a bit of a ripoff to anybody who might need a phone.